Album Review: Andrea Bocelli's "Cinema"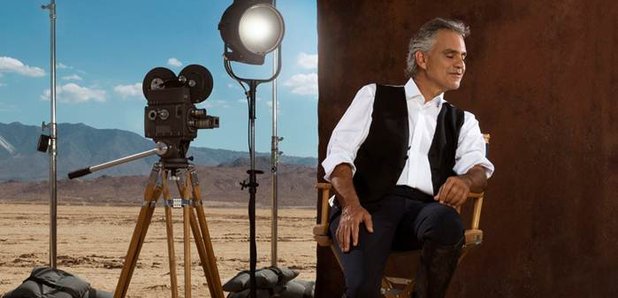 Disclosure: I participated in the Andrea Bocelli "Cinema" album review program as a member of One2One Network. I was provided an album to
review
but all opinions are my own
.
A Bit Of Information:
Music and movies go hand in hand. Now, you've got a chance to hear and review a new album of songs from classic movies performed by the one-and-only, Andrea Bocelli.
You may know Andrea Bocelli as the big tenor voice--best-known for his performance with Sarah Brightman on the song "'Time to Say Goodbye", the classical pop duet which broke sales records and topped charts across Europe--and helped make him the biggest selling living classical music artist. His albums have sold over 80 million copies! Operas, arias and duets with other big stars (including Celine Dion and Jennifer Lopez) have all propelled him further to stardom. (Fun fact: Andrea recently sang for Pope Francis on his trip to the U.S. last week.)
On October 23, Verve Records will release Andrea Bocelli's "Cinema" - a collection of interpretations of songs from classic movies like West Side Story, The Godfather and Gladiator.
My Truthful Outcome on Andrea Bocelli:
I am not going to sit here and tell you I am a expert on music or even playing some instruments. Well the only instrument I ever played and had some lessons is the organ. My parents had hopes for me but it just wasn't for me. I took the lessons for a year, but that was it. I am just one of those people that love to listen to music. I love to listen to all different kind of music and broaden my families horizon.
Andrea Bocelli's incredible and powerful tenor resonates deeply on his new album. The combination of his talent and his fresh set of his familiar film music and the emotional attachment that many of us have to some of his famous pieces in his album.
I have to say that this album is very good. I am not a big opera fan or just musicals but I do have to say I really loved this music. I found it very relaxing and soothing. I have to say my family thought it was good also. That must tell you something about this album!
I have to say that Music for film is such a dramatic and so emotional feeling that it tells the story by itself. I have to say there were a couple of familiar songs on this album. The first song was "Maria" and that was from West Side Story. The second song was "The Music Of The Night" and that was from Phantom of the Opera. The other songs on this album were just as good and I have listened to this several times since I received it and even before I started this post.
About Andrea Bocelli:
Because opera is one of the least accessible (in my opinion, at least) genres of music to the average listener.Andrea Bocelli has recorded music in five languages, and he has created duets with world-famous opera singers and pop stars. Bocelli's gift of bringing opera and now film music into homes worldwide should be celebrated.He has his own star on the Hollywood Walk of Fame, and he's sold more than 80 million albums worldwide!His newest album, "Cinema" was recorded live at the Dolly Theater in Hollywood, California in September, and it'll be aired nationwide on November 27th as the final presentation of PBS.....Fall Arts Festival.
That's a huge accomplishment for a vocalist who was operatically trained.
About This Awesome Album "Cinema":
Andrea Bocelli's newest album, "Cinema," is an album he's dreamed of creating for a long time. According to Bocelli, film music is an "exceptional artistic treasure trove:" I am sharing in advance with you all the greatest music you will receive from this album.
1) MARIA from 'West Side Story'
2) LA CHANSON DE LARA from 'Doctor Zhivago'
3) MOON RIVER from 'Breakfast at Tiffany's'
4) E PIU' TI PENSO duet with Ariana Grande from 'Once Upon a Time in America /Malèna'
5) BE MY LOVE from 'The Toast of New Orleans'
6) THE MUSIC OF THE NIGHT from 'The Phantom of the Opera'
7) BRUCIA LA TERRA from 'The Godfather'
8) POR UNA CABEZA from 'Scent of a Woman'
9) NO LLORES POR MÍ ARGENTINA duet with Nicole Scherzinger from 'Evita'
10) L'AMORE È UNA COSA MERAVIGLIOSA from 'Love is a many splendored thing'
11) MI MANCHERAI from 'Il Postino'
12) CHEEK TO CHEEK duet with Veronica Berti from 'Top Hat'
13) SORRIDI AMORE VAI from 'La vita è bella'
14) HISTORIA DE AMOR from 'Love Story'
15) OL' MAN RIVER from 'Show Boat'
16) NELLE TUE MANI (NOW WE ARE FREE) from 'Gladiator'
Now that you read this great informative review on Andrea Bocelli Album and of course you liked it. You can grab yourself a copy at either of these two great places.