Happy Halloween 2016
Halloween is one of my favorite holidays. As long as I can remember I loved Halloween. As a young child, I couldn't wait for Halloween to come. i loved dressing up, going trick or treating, the candy and all of the horror movies. My dad and I on Halloween used to pick out two horror movies and we would watch them after I came home from trick or treating with my mom.
Now as an adult I still love Halloween. The only thing that changed is now I am an adult and can't go trick or treating. I did take all of my six children around the neighborhood and when we got home they would all split the candy up with me. Which that was a lot of candy and I couldn't eat that much. I would save most of it to when they run out and would give them each a sandwich bag full for our movie night and etc.
Now throughout this post I am going to share with you all my favorite Halloween things. If you have the same favorites as me I would love to hear about or if you have something that I don't have in this post please share it. I am always on the lookout for new products, places, Halloween movies, traditions you do with your family and etc.
Some of the best Halloween candy:
These crowd-pleasing Reese's Pumpkins. Stock up on these popular seasonal candies now while you can! I personally grabbed three extra bags since these are just seasonal. I am keeping them in the frig so they will not get all melty and make a mess.
Ideal for filling the candy bowl at a neighborhood Halloween party or the office candy bin, these Lindt Lindor milk chocolate truffles are cute
and
incredibly addictive. I do have to say that these are very delicious. I was able to get a box of these pumpkins. The milk chocolate was so creamy and delicious.
I personally just love anything that is made by Jolly Ranchers. Their candies are very tasteful and stays to the last bite.
If the packaging on this delightfully spooky variety bag doesn't already get you in the mood for tricks and treats, its yummy contents certainly will. Your party guests will go absolutely
batty
over the Jolly Rancher Lollipops.
Have you tried any of these?
What is your favorite Halloween candy?
In this next section below is going to be a couple of printouts for the children to color. I really think they would like to design and color their own pictures. My children loved doing these things. We would have a coloring contest and other little things like that. I would also color and design with them. It would be a family coloring night. Now here's a couple that we used and I hope you like them.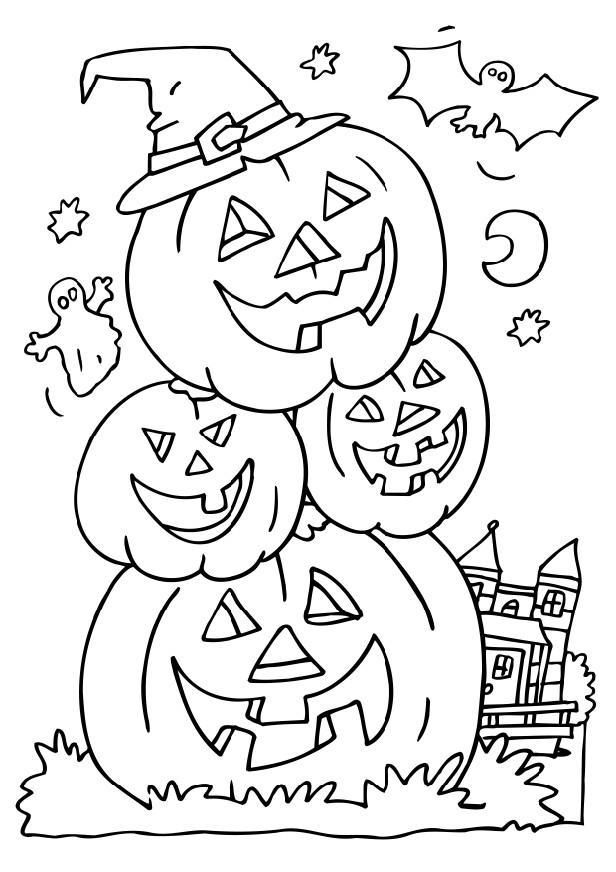 Have a blast coloring these two pictures.
Now here is a fun recipe to serve for the children's Halloween parties. You have to have some awesome recipes for this scary holiday. The children love to see what kind of foods they are going to sink their teeth into. Let me tell you some adults love this too.
Eyeball Potion
8 ounces vanilla ice cream
20 pieces blueberries or raisins
red Jell-O, if desired, see instructions for details
Using a small ice-cream scoop, place 2 scoops ice cream into each of the 10 dessert dishes for eyeballs. Place a blueberry or raisin in each scoop for the pupil.

Freeze 30 minutes, or until firm.

Meanwhile, stir boiling water into gelatin in large bowl at least two minutes until completely dissolved. Add cold water to gelatin, stirring until slightly thickened. Water quantity may vary depending on the type of gelatine used. Add red food coloring as needed. To make it easier you may also replace this step by using red Jell-O.

Pour about 1/2 cup gelatin around the two eyeballs in each dish, leaving the top of the eyeballs exposed. Freeze until ready to serve.
Do you love Halloween?
Do you have a special recipe that you make for Halloween?
Come and share anything you would like to about Halloween!