** I received a free copy in exchange for my honest opinion of the book. This post is in my own words and own opinion.**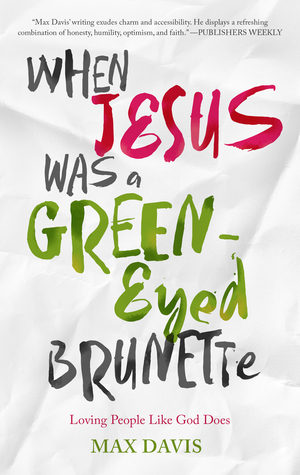 I was one of the lucky ones to get this book, read it and tell you all about it. But as you read everything I wrote just remeber to form your own opinion of the book you must get it and read it yourself.
Description Of Book:
When
Jesus Was a Green-Eyed Brunette
weaves heartwarming and miraculous stories of Jesus showing up in ordinary people, revealing that He knows us and is fully present in our everyday circumstances, especially in our difficulties. As best-selling author Max Davis puts it, "When we are born again, Jesus lives inside each of us. He is very much alive today and still does incredible things -- sometimes supernatural things -- through us!"
Davis's own life was dramatically altered when he first came face-to-face with Jesus living inside a green-eyed brunette. That encounter started a forty-plus-year journey where Jesus became his best friend. When we see others as God sees us we will love them as God loves us.
Those hurting and weary from worn-out religion are longing for a fresh touch from the living Jesus. By letting Jesus live through us we become a conduit of His love. Authentic Christianity is not about religion but a relationship with Jesus. Davis challenges us to do more than simply receive His grace -- we need to allow grace to soften, change, and shape us. As you read this book, you will laugh, cry, and come face-to-face with the living Jesus.
Now that I shared with you the short desciption of the book,so you can get a small idea of what the book is about. Now below I am going to share my own opinion with you all.
My Opinion Of The Book:
I want to admit one thing right at the start. The unique title of the book drew me to it. I also heard that this author has well-written books. Now to let the title fool you because this book
is neither a weird or light-hearted book. Throughout the story I found myself almost in tears.
This book made me want a better relationship with Jesus. It stirred a desire in me to be more loving to people and to reflect Jesus more than I do. This is the kind of book that shakes you, challenges you, and makes you want to do better...be better. This author,
Davis shows what it means to truly love Jesus and show that love to the world. It is an interesting read, yet one that is loaded with all kinds of challenges and truth.
Did any part of this post make you think?
Do you want to have a strong relationship with Jesus?
Do you know someone that could benefit from this book?
OR.....Enter the giveaway below!
a Rafflecopter giveaway
"Disclosure (in accordance with the FTC's 16 CFR, Part 255: "Guides Concerning the
Use of Endorsements and Testimonials in Advertising"): Many thanks to Propeller Consulting, LLC for providing this prize for the giveaway. Choice of winners and opinions are 100% my own and NOT influenced by monetary compensation. I did receive a sample of the product in exchange for this review and post. Only one entrant per mailing address, per giveaway. If you have won a prize from our sponsor Propeller / FlyBy Promotions in the last 30 days, you are not eligible to win. Or if you have won the same prize on another blog, you are not eligible to win it again. Winner is subject to eligibility verification."